Akumal Transfers Hotel Zone and Condos
| Rates | 1 to 2 Persons | 3 to 7 Persons | 8 to 10 Persons |
| --- | --- | --- | --- |
| One Way | $80 USD | $85 USD | $95 USD |
| Round | $140 USD | $145 USD | $170 USD |
Welcome to Private Tours and Transportation from Cancun Airport
Swimming and snorkeling are excellent choices in its coves such as Kantenah, or Half Moon Bay; however, the most famous is known as Yalku lagoon which is located 2 km to the North of town. Yalku is an eye of freshwater and rocky area, in that environment a lot of colorful tropical fish live with their youth away from predators.
Diving off the coast of Akumal has a peculiarity as the morphology of the coral presents typical formations of caverns and canyons, creating mountains and structures inhabited by a wide variety of marine fauna where it is common to find turtles that swim in these areas of the Mexican Caribbean Sea.
There is a Mayan Temple, built on an island of rock in the Cove of  Xaac, which is a clear sign on how the Mayans inhabited this site.
West of highway 307, is a large complex of Caverns or cenotes, on which tourists can enjoy swimming, snorkeling and diving in Caverns, example of these are the Blue Cenote and the Cenote Eden.
Four kilometers to the South you can find Aktun Chen natural park (in maya means cave with cenote inside). In this park, the visiting area has a snake house, and monkeys are visible and may interact with visitors. The cave has three galleries with formations of stalactites and stalagmites created by water and calcium carbonate throughout five million years; in the main gallery you can see a cenote.
In town there is an informative Center on environmental issues, created by the CEA (Akumal ecological Center,) a non-profit civil organization society whose primary interest is to create eco-conscious residents and visitors and ensure the environmental quality of the place.
Paradise Transfers can serve you with your Akumal Transfers services as well as your tours around Akumal. We would be very glad to serve you and show you the beautiful and lavish nature in Akumal.

For your convenience, you can contact us using any of the telephones provided in our contact page or you can use the application WhatsApp 24 hours a day, 7 days a week: 998-1-850-1010.
Hotels and Condos in Downtown and Hotel Zone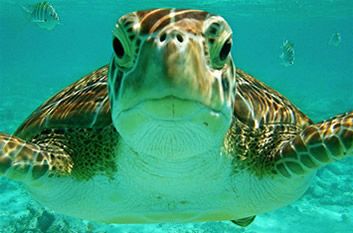 Akumal town, Casitas Akumal, Copacabana Beach Resort Robinson Club, Club Oasis Akumal, Tankah Inn, Villa Maya, El Dorado Seaside Suites, Kantenah Palladium, Hidden Beach Resort, Bahia Principe Akumal, Bahia Principe Tulum, Bahia Principe Coba, Grand Sirenis Riviera Maya All Inclusive, Luxury Bahia Principe, Oasis Tulum Lite - All Inclusive, Villas de Rosa Beach Resort, Bahia Principe Vacation Rentals - Quetzal Two-Bedroom Apts, Grand Oasis Riviera Maya, Akumal Beach Resort, Half Moon Bay.
Authorized Transportation

Paradise Transfers complies with the Mexican Government and Cancun Airport's requirements of official licenses and permits to operate as a Tourism Transportation Company. You and your family will be traveling with a fully authorized and legal company. Safety always comes first.